Email Love is supported by
Email Peeps #2: Niven Ranchhod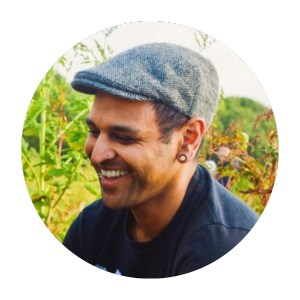 Tell us a little bit about yourself and how did you get to where you are today?
My journey has been a bit of a roller-coaster ride. I started out in web development but I was fortunate enough to have been exposed to email development in my first role as a junior.
Since then I've jumped between front end & email roles for both in-house teams & agencies. My varied roles coupled with my freelancing business which I've had most of my career has allowed me to up-skill quickly and build up a decent portfolio.
One major setback I encountered in my career was moving to the UK, where I basically had to start my career over. Being on a two year work visa wasn't very attractive to companies, so I basically had to take what I could, which meant going back to a junior role on a measly salary. It was a tough year and a half but eventually I managed to find a role that gave me complete freedom to build an in-house email development function.
Eventually, my Tesla portfolio project led to an interview at Mayoris, working on the Mailix platform, where I now get to work on some super complex client builds including interactive elements. I'm genuinely working my dream job right now.
A big thing for me now is coming full circle and giving back to the community. I popup in a lot of places I see people posting questions and I'll try to help out where I can. That is part of what my current hobby/project Bare Bones is all about. It's a place to post my experiments with email code, provide write-ups for other devs to get an idea of how I problem solve and then hopefully that inspires them on their next project.
---
What keeps you interested in the email marketing space?
Just how much we can still amaze people when we show them what we're capable of in this industry. Email is so much more than a static stepping stone to a website. Blowing minds is something we strive for with Mailix, everyday.
Another important point for me is how diverse our community is.The community is flourishing and celebrates every single person. We're lucky enough to now have a strong group of women who are leading the way on the development side of the industry. My hope is that this now inspires other marginalised members in our community to find their voice and become the next group of leaders. I hope I can at least have a small part in that effort.
Hardware:
Alienware M15 R3 15" laptop
SoundPEATS Free2 Classic Earbuds – Very recent wireless headphone convert.
ASUS ROG 17" laptop – recycling an old machine as my dedicated accessibility testing device.
Software:
Sublime – Mayoris projects
VSCode – Bare Bones website
Parcel – Bare Bones projects
Litmus
Dropbox – Everything lives here. It makes portability & access to my files so much easier, to the point where I can work anywhere, from my phone or any other device.
Slack
Figma
Spotify – You know I'm in my groove when I'm bobbing my head while coding
YouTube/Twitch – Very much enjoy watching people play games while I code
Niven often works from his backyard with his son, Finn
---
What piece of work are you most proud of?
My career defining moment to date was building the Tesla Range Calculator & Configurator. It was a slog, I was constantly hitting roadblocks but the community is so keen to share their code to teach others and that made it easy to find reference projects to take learnings from and complete the project.
It put me on the map in the industry and eventually led to Mark Robbins linking me up with Cyrill at Mayoris who was looking for a developer with the right kind of interactive email experience.
And this has turned out to be the perfect fit. I have a great work/life balance and I'm not only paid to build exciting & challenging client work, I'm also pushed to experiment, document my findings and share with the community.
I owe Mark a huge debt of gratitude for dropping my name and essentially getting me an interview for this job.
---
What email marketing tool can you not live without?
Email client testing tools. We use Litmus at Mayoris but I've also used Email On Acid at previous companies. Testing tools are invaluable.
---
How do you balance a full time job with so many side projects?
I'll be honest, it's been really tough since Finn was born, in late 2021. Early 2023 now and I'm still trying to find the perfect balance in my daily routine to be able to fit in some regular hobby/side project time.
My professional priority is my day job and I usually spend a couple of hours working in the morning, then sporadic 30 min chunks throughout the day and then I'm back into my mental silo from 10pm till quite late. That doesn't leave a lot of time to work on other stuff, so I just have to be flexible.
I completely stopped my freelancing business to free up time and then I just fit in my Bare Bones experiments when I can. It's not ideal, but I make sure I note down all of my ideas and then when that free time finally comes, I jump back into a WIP or pick a new idea and make the most of the time I've got.
I'm very sleep deprived but my imagination and eye for picking out challenging ideas to build out are in overdrive at the moment, so I'm riding the wave as best I can and hopefully I can build up some more momentum in 2023 and get more of these kooky ideas out into the wild.
Follow Niven's journey on Twitter –> @NivenRanchhod
Much love,
Andy

Email: [email protected]
Twitter: @emaillove