Email Love is supported by
Email Peeps #10: Chad White
Tell us a little bit about yourself and how you got to where you are today?‍
I'm a journalist by training and worked for several years at Condé Nast and Dow Jones & Co. before getting into email marketing after starting The Retail Email Blog, where I tracked the promotional emails of more than 100 top retailers on a daily basis. My older brother had started a blog, so—being a competitive younger brother—I did, too. At the time, I covered retail and ecommerce in my day job, and was already subscribed to a bunch of retailers' email programs to stay up to date on what they were doing online.
That blog got me a job at the Email Experience Council as employee #3 right after it was founded. I never turned back, going on from there to work for the Direct Marketing Association, Responsys, ExactTarget, Salesforce, Litmus, and now Oracle. At all of those companies, I've served in a similar role of subject matter expert and researcher. I feel immensely fortunate to have found such a dynamic and interesting industry that's full of so many great people.
---
‍What's your favorite email marketing hack, tip, or trick?‍
One of my favorites is the preview text hack, which adds white space to the end of your preview text to keep unwanted HTML text from being pulled in. It not only keeps your preview text clean and unmuddled, but allows you to create a whole line of white space in some email clients that can help your email stand out even more.
---
‍What is your advice for email peeps that are entering the workforce in 2023?‍
First, they should know that they've chosen a solid industry. Email marketing isn't taught at colleges, so there aren't tons of new folks coming into the industry with advanced skills.
Second, they should know that since email marketing isn't taught at colleges, you have a lot of on-the-job learning to do. That's a big part of why I've written four editions of Email Marketing Rules. It's a complex channel that's becoming more complex over time, especially as it's increasingly integrated with other channels and gains even more personalization, segmentation, and automation capabilities.
Thankfully, the email marketing community is extremely welcoming and open. There's an active #EmailGeeks community on Twitter and stellar EmailGeeks Slack community, as well as lots of great industry blogs. Some of my personal favorites are the Only Influencers blog, MediaPost Email Insider, MarketingProfs blog, Litmus blog, and, of course, Oracle's Modern Marketing Blog. Plus, there are great events like the ANA's Email Evolution Conference, Email Innovations Summit, Email Insider Summit, Litmus Live, and Really Good Emails' UNSPAM.
If you're new to email marketing, definitely take advantage of these wonderful resources, among many others.
---
What's in your email marketing toolbox?‍
I know many people like working on the couch or outside when the weather's nice, but I love a good desk. Mine is from my mother's father, who worked for an oil company in Texas, where I grew up. Nearly everything I've ever written about email marketing has been at that desk.
Hardware:
MacBook Pro for work
HP ENVY desktop for personal
27″ BenQ monitor with an HDMI bi-direction switch to toggle between the two computers
Logitech MX Master 2S Wireless Mouse (I don't like the Magic Mouse)
Jabra Engage 65, which I prefer over open mics
Logitech C920S Pro HD Webcam
JOOFO Floor Lamp as a ring light for Zoom meetings and webinars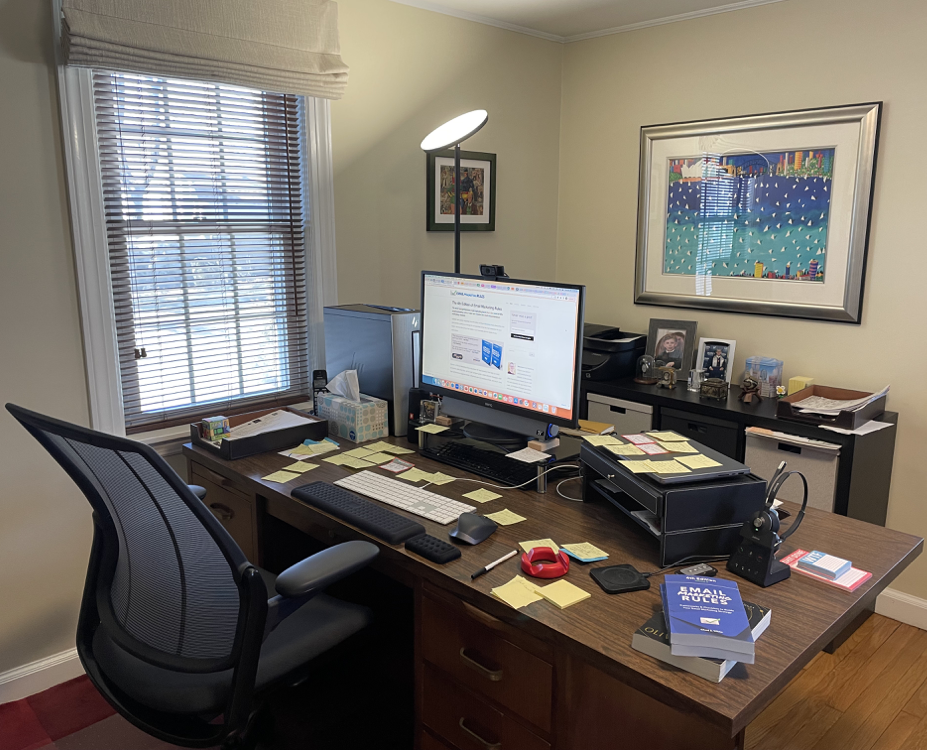 Software:
Wrike, which we use to manage projects internally
Trello, which I use to manage all the content I write
SnagIt, which is great for doing scrolling screen captures of emails
iMovie
MailerLite for sending the Email Marketing Rules newsletter
Plus, heavy usage of Google Docs and Sheets, PowerPoint, Slack, etc.
Beyond that, I'm a heavy user of Post-its, as you can see from the picture of my desk. To-dos, notes, data visualization ideas… I probably go through a pad every couple of weeks. (I also have Post-its on my bedside table, along with a Zonon lighted tip pen.)
---
‍What's your favorite email campaign of all time? Why?‍
I share a bunch of my favorite breakout campaigns on my website. Among those, I'm partial to Litmus's Email Design Conference "Save the Date" email that had a live Twitter stream coded into it. I didn't have a hand in it, but I was working there when it was sent. After a brief hiccup, the live Twitter stream worked great, and it was amazing to see folks excitedly tweeting with our event hashtag to see their tweet appear in our email.
---
‍How do you manage work-life balance?‍
On the one hand, I've been super fortunate to have worked remote and flex-time for pretty much the entirety of my email marketing career—and part-time for a chunk of it as well. That's allowed me to be the primary caregiver for my two youngest sons, which are now thankfully 11 and 13 and need a lot less care. But even now, having the ability to easily take my kids to piano lessons, after-school events, and doctor's appointments is something I cherish.
On the other hand, I've spent years of weekends and late nights writing four editions of Email Marketing Rules, and I'm working on a sci-fi series, too. Thankfully, my wife Kate is a two-time author herself and understands the time it takes to complete a book. We try very hard to be done with both "work" and "work work" by 9 every night, and we have date night every week when neither of us works at all. Work-life balance is tough when you really like your job and your hobbies look a lot like work, too.
Much love,
Andy

Email: [email protected]
Twitter: @emaillove